No matter where you stay in the world, it is important that you study at a good university. It is not possible to get admission to the best colleges in your own country, especially when you are living in a country like India. There are so many students who compete so hard for every competitive examination. Be it engineering, medical, civil services or anything else. The competition here is really tough and the seats for admission are really less. This is why some students who don't want to slow down in life have to take another way out of this system. In this article, we will specifically talk about the students who want to pursue MBBS. Where can they go, what should they do to get into the best universities of that country? We will tell you everything in this article.
Russia is one of the countries that pops up in the mind of every medical aspirant in the country when they don't see a seat in any good Indian College. There are many students who go to Russia to complete their aspirations of becoming a doctor. If you are one of those people, this article is for you and you should read it till the end. You will get to know everything that you need to get admission to top universities in Russia. Though it is not too easy, when we compare it to the admission process in India, it is slightly smooth. They do ask for your basic qualifications, but the admission eligibility is not as tough as it is in India. The reason why people move to Russia for medical studies is the quality of study and ease of admission. You will get to know everything else ahead in the article.
About Russia
Most of you would know that Russia is the biggest country in the world. Some people also confuse it as a continent that it is not. This is a country that comes under two continents, Asia and Europe. But, as they are not connected directly to the landscapes everything they have is their own. Culture, the political scenario, the education system. None of it is related to any other country in either of the continents. This is one of the things that allows people in this country to keep growing without any intervention. They have a strong infrastructure and they have a great education system. We are discussing the aspects of pursuing an MBBS in Russia. Without any doubt, this is one of the best countries that you can go to and complete your MBBS degree. This article will clear all types of doubts that you might have.
Russia was earlier a part of the USSR. The history of the country has always been very rich and they have taken part in world wars and other important events too. As far as their relations with India are concerned, they are friendly. The country is beautiful with its natural landscapes and state-of-art infrastructure. They are one of the most developed countries around the world. The country covers more than 17 million square kilometres. There is no other country that is even near to this.
Why is Russia a great choice of destination to study MBBS for international students?
Most students are confused about which country they should choose when they are planning to study abroad. This is because they are not aware of the benefits that they will have in each of the countries. When you already know what a country has to offer, you will be able to decide in a better way. Russia is one of the best-developed countries and so is their medical infrastructure. Now, if they have a well developed medical infrastructure, they will also have a well developed medical education system. That is something that turns out to be true. Let's have a look at all the things that will make you understand why going to Russia can be a great decision for your medical journey.
Eligibility Criteria To Get Into A Russian Medical University
The eligibility criteria to get admission to a Russian Institute where you can study MBBS is as follows:
Documents That Are Required To Get Admission To A Russian Medical University
Students have to keep a set of documents ready to qualify for the admission process. These documents are asked with the form or sometimes after the form. This is to make sure that the student has filled incorrect details and no fraudulent candidate has filled the form. Though, there are more rounds that allow them to know if all the information that you have provided is true or false. But, the documents are important. You need to provide them with the documents that allow them to know your educational background, your residential address and your identity. These should be the documents that are verified by your government or otherwise they won't be accepted. Some of the documents also require you to get them attested from the embassy and get them translated into the native language of Russia. Let's have a look at all the documents that are required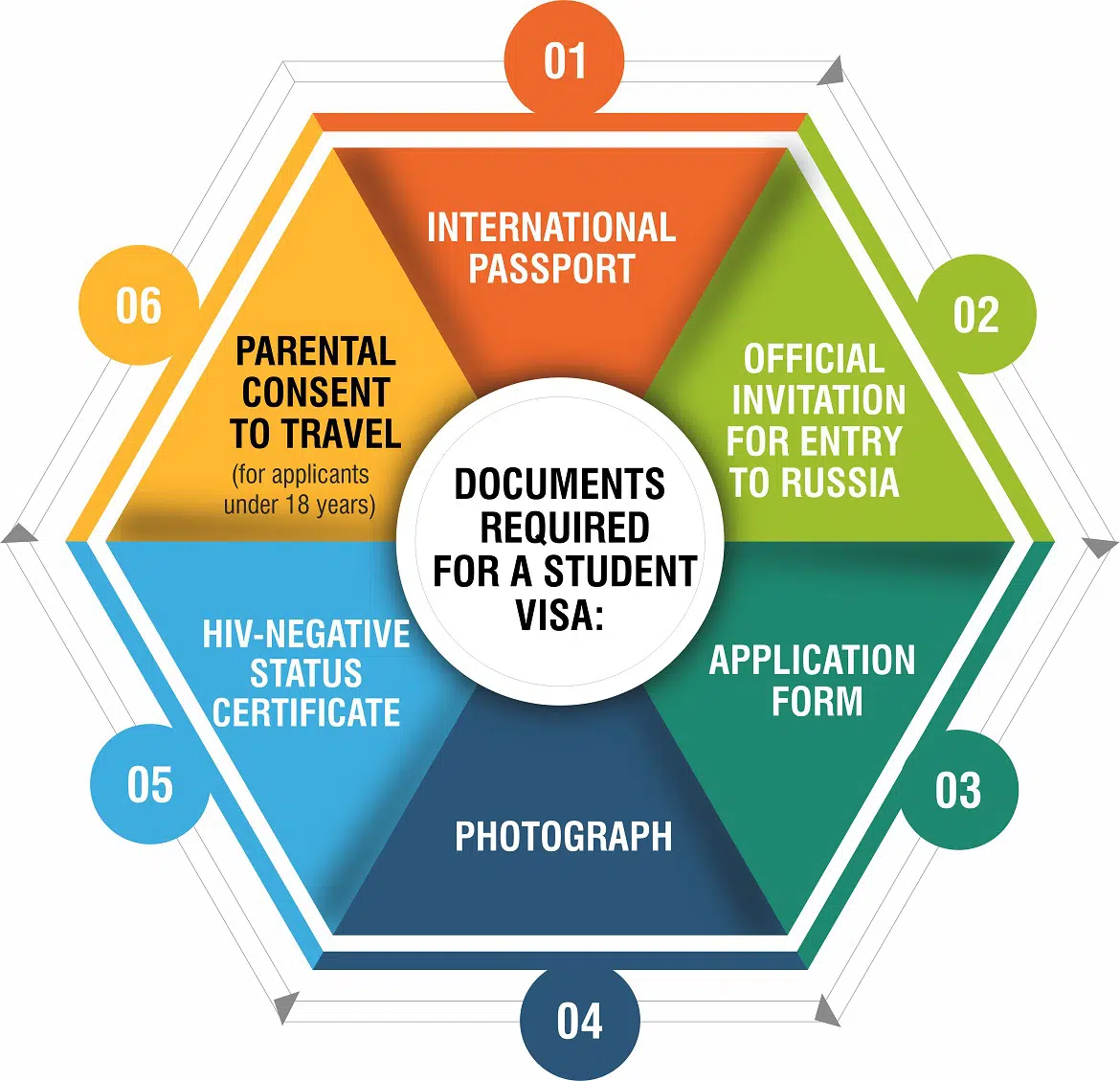 How To Apply To Top Russian MBBS Universities
Some Courses Offered By The MBBS Universities In Russia:
Some of the courses that are offered by MBBS Universities in Russia are as follows:
There are many other courses and it also depends on the university that you choose. Universities offer different types of courses so that the students can learn what they are interested in. Just knowing some type of treatment is also important for the doctors-to-be.
How What Is The Duration Of The MBBS Course in Russia?
MBBS degree takes 6 years to complete in Russia. Any university you choose, you will have to complete 6 years to get your MBBS degree and it is important that you pass in each year and clear all the backlogs if you have any as soon as possible. Not all universities allow you to carry your backlogs to more than one year and that might result in a year down.
What Do You Need To Get A Visa For Studying In Russia?
The Russian government is extremely welcoming to students from all over the world. The majority of students who want to complete their education in Russia will need a passport and a visa. Applicants of a few countries including Azerbaijan, Abkhazia, Southern Ossetia, Belarus, Kazakhstan, Kyrgyzstan, Moldova, Tajikistan, Ukraine, Armenia and Uzbekistan do not require a visa in Russia.
For other countries, it is advised to get a student visa for a long and safe stay in Russia. One can obtain a student visa through the Russian Embassy or Russian Consulate in their country of resistance. The initial duration of stay provided through a student visa is three months. After this period is over, the student must apply to the local division of the General Administration for Migration Issues of the Interior Ministry of Russia for an extension for their stay. These bodies have the power to issue one-year multi-visa. Through this, the student can travel to and from Russia within the given time period. Applying for another extension can get the students another 1-year of stay and carry on in this pattern.
International students who are done with their pre-university training and qualified for the entrance test can easily extend their student visa in Russia and not need to travel back to their country of residence.
Documents required for a student visa:
International passport
Official Invitation for entry to Russia
Application form
Photograph
HIV-negative status certificate
Parental consent to travel (for applicants under 18 years)
Syllabus The MBBS in Russia:
| | |
| --- | --- |
| Year | Syllabus |
| First Year | The first year of MBBS in Russia has its focus only on the basics. The students are expected to study all the basic subjects of the Science stream. They mainly include Physics, Chemistry, Biology, Public Health, Nursing (Surgery & therapy), Anatomy. In the first year, they teach several other subjects such as History, Economics, Culturology, Russian language, Basics of Research, Mathematics and Physical training. |
| Second Year | The second-year is more inclined towards the study of how a human body functions. This year has subjects such as Physiology, Immunology, Hygiene and Biochemistry. Students learn about the metabolic processes of the body. Additionally, they have subjects like Psychology, Medical Law and the Russian language for a better understanding of patients. After the students have cleared their second-year examinations, they work as a nurse in the hospital for a minimum duration of two weeks. |
| Third Year | In the third year of college, students perform training under their teachers about the aetiology of diseases and the actions of different drugs in the body. Subjects such as microbiology, pathology, pharmacology, Topographical Anatomy, Internal medicine, Radiology and operative surgery are included in this year. |
| Fourth Year | The fourth year of MBBS marks the beginning of hospital cycles. The students go on for training under different departments of the hospital. Practical classes consist of two parts, one part is discussion and the other part is to practice in the patient ward of the hospital. Fourth-year gives the real-time experience of being a doctor. Students choose their department from Surgery, Dermatology and Venereology, Obstetrics and Gynaecology, Medical Rehabilitation, Urology, Public Health, Pediatrics, Phthisiology, Endocrinology, Neurology and Therapy. |
| Fifth Year | The fifth-year MBBS students undergo training in E.N.T., Ophthalmology, Gene therapy, Infectious diseases, Psychiatry, Traumatology, Orthopedics, Physiotherapy, Outpatient therapy, Surgical Gynaecology. |
| Sixth Year | The sixth and final year of MBBS consists of more advanced subjects. It includes Forensic medicine, Epidemiology, Oncology and radiation therapy, Intensive care training, Occupational diseases, Dentistry, Clinical Immunology, Anesthesiology, General medical practice, Neurosurgery. |
Benefits Of Studying MBBS In Russia
Below are some of the benefits that you will get when you study MBBS in Russia:
You don't have to give an entrance test to get admission
You have an opportunity to get a double diploma
It is easy for international students to survive in Russia
The living costs are not too high
You can study in English from the best of the faculties
The MBBS degree from any top Medical University is recognized all over the world
The infrastructure and the education is top-notch
Hostels And Accommodation Facilities In Medical Universities In Russia
Hostel and accommodation are provided to all the top medical universities in Russia. They provide a bed, tables, chairs and more things that a student might need in their room. Also, the students are not charged for the water, or electricity that they use. Some universities also provide food for the same fee and make sure that the student gets everything right in the hostel campus and has to leave only for other special stuff. The hostel fee ranges from 10,000 to Lakhs and that depends on the university.
Top Medical Universities In Russia
Lomonosov Moscow State University (LMSU)
This university was founded in the year 1755 and is a non-profit registered in the public education sector. This is one of the best universities to study MBBS in Russia. They have great professors and infrastructure that allow the students to get the best out of their educational period. If we consider its national rank, then it is the topmost college, yes it comes at 1st rank. The college is popular around the world and it has given many great people to the world. It is ranked at 123rd position when we look at the world level.
The course fee is 3.6 lakhs per annum and the hostel fee is 8.4 lakhs.
Kazan Federal University (KFU)
This university was founded in the year 1804 and is also a non-profit public sector university. The university is situated in Kazal Oblast and has been popular amount the Indian students who want to pursue MBBS in Russia. If we look at the numbers they have more than 45000 students who are studying in various programmes. One great feat is that they have more than 4000 staff members. They take 3.9 lakhs annually as tuition fee and just 6650 as the hostel fee. The university has a national rank of 5 and a world rank of 423.
Novosibirsk National Research State University (NNRSU)
This university was founded in the year1959 and is a non-profit public education university. This comes at 11th rank in the nation and at 819 in the world. With over 6000 enrolled students and more than 2000 staff members, this is one of the most popular MBBS universities in Russia. They take 3.5 lakhs annually as tuition fee and 70,000 as hostel fee.
Belgorod State University (BSU):
This is one of the universities that started later in the time and are still doing great. BUS was founded in the year 1976 and is in the 13th position in the country and on 857th position in the world. They also take 3.5 lakhs as tuition fee and 31,500 as hostel fee from the students (annually).
Peoples' Friendship University (PFU):
Just like their name, this is a university that is friendly to Indian MBBS aspirants as well. The university was founded in the year 1960 and is right now at 14the rank nationally and 650th rank worldwide. They also take 3.5 lakhs for tuition fee and 84,000 hostel fee annually.
Crimean Federal University (CFU):
This university is the newest and still one of the most popular MBBS universities in Russia. This was founded in the year 2014 and still, it has got 19th rank in Russia and stands at the rank 3,512 in the world. These say that the university has something great, because of that only it has managed to rise up the ladder in such a small time. They take 3.7 lakhs per annum for the tuition fee and 70,000 for the hostel fee from the students.
FAQs
What Is The Eligibility Criteria To Study MBBS In Russia?
A student should clear their 12th with at least 50% and should have appeared for NEET and secured 40% in it. The subjects that they should have are Physics, Chemistry and Biology/Biotech. Also, the student should be at least 17 years old when they apply for the admission process.
What Is The General Living Cost In Russia?
The general living cost in Russia can be managed when the students choose to live in the hostels that are provided by the university. University provides most of the things to the students from furniture, to free electricity and much more. They can save on a lot of things and can also get food from time to time.
Can I Practice Medicine In India After Completing MBBS In Russia?
Yes, you can practice medicine anywhere in the world after completing your MBBS in Russia. The colleges in Russia are recognized by all big hospitals and medical associations around the world. This is something that allows the alumni who have studied there to get a preference over other professionals. A doctor who completed MBBS in Russia can practice in India without a problem and can even open a hospital or a clinic of their own.
What Is The Average Fee Of MBBS In Top Universities In Russia?
On average a student has to spend around 2.75 lakhs per years. This might go higher or lower according to the university that you choose. There are many universities that allow students to study at a very minimal cost as well. When compared to India, the average fee in Russia is way lower. The facilities that they provide and the fee that they take make the MBBS program a great choice.
Top MCI Approved Medical Colleges in Russia 2021
North Ossetia Medical Academy (NOSMA) is a low-value medical institute that was established in 1939. It has its very own contemporary-day clinics for well-known medication and dentistry. NOSMA is identified via accreditation from WHO, MCI and different medical global councils. There are proper research laboratories inside the Academy and Institute…
Load More
Compare Universities
| | | | | | | | | | | |
| --- | --- | --- | --- | --- | --- | --- | --- | --- | --- | --- |
| University Name | Established Year | Language | Eligibility | NEET Score | Tuition Fee (USD) | Hostel Fees (USD) | Population | Country Rank | World Rank | Location |
| Altai State Medical University | 1954 | Bilingual | 50% In HSC | Qualified | 4300 | 300 | 612,401 | 176 | 5122 | Barnaul |
| Astrakhan State Medical University | 1918 | Bilingual | 50% In HSC | Qualified | 4000 | 700 | 520,339 | 135 | 4552 | Astrakhan |
| Bashkir State Medical University | 1932 | Bilingual | 50% In HSC | Qualified | 3900 | 150 | 1,033,338 | 67 | 3194 | Ufa |
| Belgorod State National Research University | 1996 | Bilingual | 50% In HSC | Qualified | 5000 | 500 | 345,289 | 24 | 1423 | Belgorod |
| Chechen State University | 1930 | Bilingual | 50% In HSC | Qualified | 4000 | 800 | 226,100 | 320 | 8432 | Grozny |
| Chuvash State University named after I.N. Ulyanov | 1967 | Bilingual | 50% In HSC | Qualified | 2500 | 400 | 446,781 | 242 | 6262 | Cheboksary |
| Crimean Federal University named after V.I. Vernadsky | 1931 | English | 70% In C & B | Qualified | 3500 | 300 | 3,32,000 | 13 | 3465 | Simferopol |
| Dagestan State Medical University | 1932 | Bilingual | 50% In HSC | Qualified | 4000 | 400 | 4,97,959 | 327 | 8694 | Makhachkala |
| Far Eastern Federal University | 2013 | Russian & English | 50% In HSC | Qualified | 4300 | 600 | 587,022 | 27 | 1632 | Vladivostok |
| Immanuel Kant Baltic Federal University | 1947 | Russian | 50% In HSC | Qualified | 7000 | 150 | 434,954 | 75 | 3344 | Kaliningrad |
| Irkutsk State Medical University | 1930 | Bilingual | 50% In HSC | Qualified | 4100 | 300 | 586,695 | 205 | 5645 | Irkutsk |
| Ivanovo State Medical Academy | 1930 | Bilingual | 50% In HSC | Qualified | 2500 | 500 | 420,839 | 274 | 7028 | Ivanovo |
| Izhevsk State Medical Academy | 1933 | Bilingual | 50% In HSC | Qualified | 6000 | 1000 | 631,038 | 276 | 7067 | Izhevsk |
| Kabardino-Balkarian State University | 1966 | English | 50% In HSC | Qualified | 5500 | 500 | 2,39,000 | 110 | 4093 | Nalchik |
| Kazan Federal (Volga) University | 1804 | Russian / English | 50% In HSC | Qualified | 5800 | 150 | 1,104,738 | 4 | 454 | Kazan |
| Kazan State Medical University | 1814 | English | 50% In HSC | Qualified | 5500 | 400 | 1,104,738 | 190 | 5340 | Kazan |
| Kemerovo State Medical Academy | 1956 | Bilingual | 50% In HSC | Qualified | 6000 | 200 | 477,090 | 332 | 8848 | Kemerovo |
| Kuban State Medical University | 1920 | Bilingual | 50% In HSC | Qualified | 3800 | 350 | 649,851 | 270 | 6966 | Krasnodar |
| Kursk State Medical University | 1935 | Bilingual | 50% In HSC | Qualified | 6600 | 150 | 409,431 | 221 | 5909 | Kursk |
| Mari State University | 2014 | Bilingual | 50% In HSC | Qualified | 4500 | 750 | 279,100 | 131 | 4513 | Yoshkar-Ola |
| National Research Nuclear University "MIFI" | 1906 | Russian | 50% In HSC | Qualified | 3600 | 1200 | 10,381,222 | 19 | 1249 | Moscow |
| National Research Ogarev Mordovia State University | 1967 | Bilingual | 50% In HSC | Qualified | 4000 | 800 | 303,394 | 22 | 1355 | Saransk |
| North Ossetian State Medical Academy | 1939 | Bilingual | 50% In HSC | Qualified | 4600 | 2000 | 317,370 | 351 | 9793 | Vladikavkaz |
| North-Eastern Federal University named after MK Ammosov | 1957 | Bilingual | 50% In HSC | Qualified | 3000 | 200 | 2,82,000 | 36 | 2182 | Yakutsk |
| Northern State Medical University | 1932 | Bilingual | 50% In HSC | Qualified | 5000 | 500 | 3,50,000 | 147 | 4703 | Arkhangelsk |
| Novosibirsk National Research State University | 1935 | Bilingual | 50% In HSC | Qualified | 6500 | 1000 | 1,419,007 | 10 | 775 | Novosibirsk |
| Omsk State Medical University | 1921 | Bilingual | 50% In HSC | Qualified | 4200 | 100 | 1,129,281 | 117 | 4207 | Omsk |
| Orel State University | 1998 | Bilingual | 50% In HSC | Qualified | 3800 | 200 | 3,19,000 | 167 | 4941 | Orel |
| Orenburg State Medical University | 1944 | Bilingual | 50% In HSC | Qualified | 5500 | 500 | 550,204 | 184 | 5269 | Orenburg |
| Pacific State Medical University | 1958 | Bilingual | 50% In HSC | Qualified | 4200 | 150 | 587,022 | 298 | 7797 | Vladivostok |
| Penza State University | 1999 | Russian / Engllish | 50% In HSC | Qualified | 4000 | 1000 | 512,602 | 66 | 3139 | Penza |
| Perm State Medical University named after E.A. Vagner | 1917 | Bilingual | 50% In HSC | Qualified | 5000 | 500 | 982,419 | 42 | 2329 | Perm |
| Privolzhsky Research Medical University | 1920 | English | 50% In HSC | Qualified | 3000 | 1000 | 1,284,164 | 287 | 7442 | Nizhny Novgorod |
| Pskov State University | 1932 | Bilingual | 50% In HSC | Qualified | 4500 | 500 | 2,05,000 | 209 | 5762 | Pskov |
| Rostov State Medical University | 1930 | Bilingual | 50% In HSC | Qualified | 4500 | 300 | 1,074,482 | 289 | 7477 | Rostov-on-Don |
| Russian National Research Medical University named after N.I. Pirogov | 1906 | Bilingual | 50% In HSC | Qualified | 7700 | 1200 | 10,381,222 | 81 | 3537 | Moscow |
| Russian Peoples Friendship University | 1960 | English | 50% In HSC | Qualified | 9050 | 150 | 10,381,222 | 12 | 945 | Moscow |
| Ryazan State Medical University named after I.P. Pavlov | 1950 | English + Russian | 50% In HSC | Qualified | 4550 | 350 | 520,173 | 340 | 6219 | Ryazan |
| Saratov State Medical University | 1909 | Bilingual | 50% In HSC | Qualified | 4200 | 900 | 863,725 | 159 | 4828 | Saratov |
| Siberian State Medical University | 1888 | Bilingual | 50% In HSC | Qualified | 4000 | 1200 | 485,519 | 56 | 2943 | Tomsk |
| Smolensk State Medical University | 1920 | Bilingual | 50% In HSC | Qualified | 6000 | 700 | 320,991 | 296 | 7734 | Smolensk |
| St. Petersburg State Pediatric Medical Academy | 1925 | Bilingual | 50% In HSC | Qualified | 6000 | 1500 | 5,028,000 | 163 | 4896 | Saint Petersburg |
| Stavropol State Medical University | 1937 | English | 50% In HSC | Qualified | 5300 | 750 | 363,064 | 211 | 5778 | Stavropol |
| Tambov State University named after G.R. Derzhavin | 2007 | Bilingual | 50% In HSC | Qualified | 3800 | 200 | 290,933 | 179 | 5224 | Tambov |
| The First Moscow State Medical University named after Sechenov | 1758 | English | 50% In HSC | Qualified | 10,050 | 100 | 10,381,222 | 2 | 116 | Moscow |
| The First St. Petersburg State Medical University named after Pavlov | 1897 | Russian | 50% In HSC | Qualified | 4500 | 500 | 5,028,000 | 150 | 4725 | Saint Petersburg |
| Tula State University | 1994 | Russian | 50% In HSC | Qualified | 3300 | 350 | 468,825 | 115 | 4179 | Tula |
| Tver State Medical University | 1936 | Bilingual | 50% In HSC | Qualified | 7000 | 100 | 400,212 | 235 | 6132 | Tver |
| Tyumen State Medical University | 1963 | Bilingual | 50% In HSC | Qualified | 4400 | 350 | 519,119 | 48 | 2555 | Tyumen |
| Ulyanovsk State University | 1988 | Bilingual | 50% In HSC | Qualified | 4000 | 800 | 640,680 | 145 | 4677 | Ulyanovsk |
| Ural State Medical University | 1930 | Bilingual | 50% In HSC | Qualified | 4000 | 500 | 1,349,772 | 222 | 5932 | Yekaterinburg |
| Volgograd State Medical University | 1935 | Bilingual / English | 50% In HSC | Qualified | 5900 / 6600 | 1200 | 1,011,417 | 158 | 4825 | Volgograd |
| Voronezh State Medical University named after N.N. Burdenko | 1802 | Bilingual | 50% In HSC | Qualified | 4500 | 600 | 848,752 | 283 | 7261 | Voronezh |
| Yaroslavl State Medical University | 1944 | Russian | 50% In HSC | Qualified | 4000 | 350 | 606,730 | 313 | 8151 | Yaroslavl |