Best MBBS Consultants In Vadodara
MBBS Consultant in Vadodara
Secure a professional degree from a foreign university at the lowest rate at Softamo! Study MBBS abroad in top MCI approved Medical Universities of the world where you get quality education, modern facility, high standard of living, skilled faculty, and multi-cultural environment. We are a trusted Abroad MBBS Consultant in Vadodara, Gujarat offering services in Ahmedabad, Surat, Rajkot, Bhavnagar, Jamnagar, etc. Hundreds of medical students have taken direct admissions in Ukraine, Russia, Europe, Georgia, Kazakhstan, etc.
The best team of education counselors is here to support your child with necessary details of MBBS abroad admission, eligibility, NEET requirement, important dates, etc.
Softamo understands the needs of students! We have been in this industry for more than a decade and have worked with utmost dedication. Being with the best MBBS consultant in Vadodara makes sure that you secure a seat in leading medical colleges and make your landing smooth. We are an official representative of many universities. Thus, we'll help you get direct MBBS admission at low rates. You can directly talk with our education consultants at +91 7303228882, +91 7227044448.
Top Countries For MBBS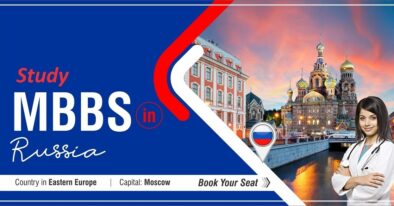 MBBS in Russia is a great option for students who are looking for a top-notch medical education at an affordable…
Top MBBS Abroad Consultants in Vadodara
Gujarat houses thousands of education consultancy Vadodara companies but Softamo is one such name that has been trusted by thousands. We are reliable Overseas Education Consultants in Vadodara that have been dealing in different countries for MBBS study abroad in various courses providing MCI coaching and USMLE coaching to students. It is our objective that you are provided with affordable medical college fees and Study VISA services near you.
Key features that make Softamo 'Best MBBS Admission Consultants are as follows:
Official Representative: We are officially representing different universities to help get direct MBBS admission for Indian students at low rates.
Experienced Faculty: Our education counselors to teaching staff have years of experience and have helped pass exams like IELTS, USMLE, NEET, MCI, etc with a perfect score.
Reasonable Fee Structure: We are service providers but always make sure that affordability is provided to our clients.